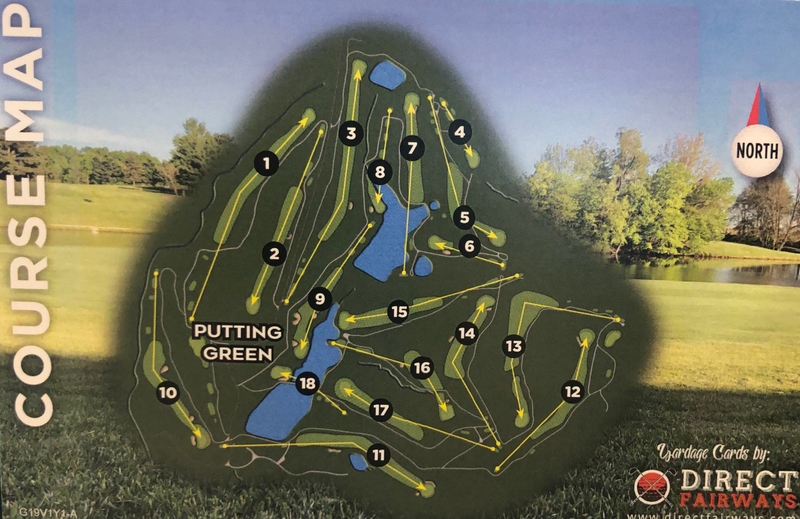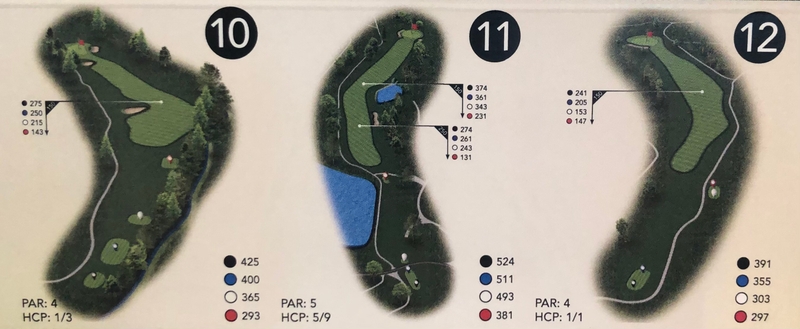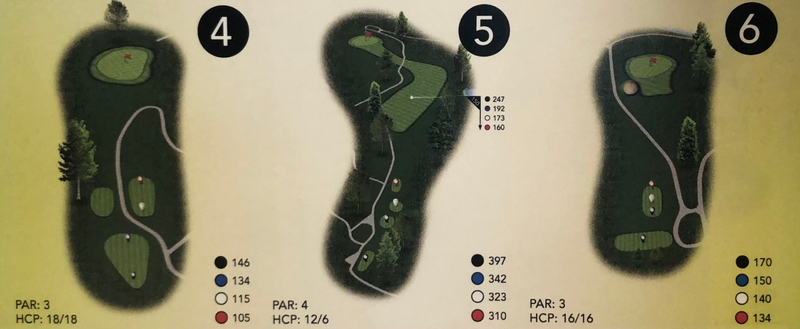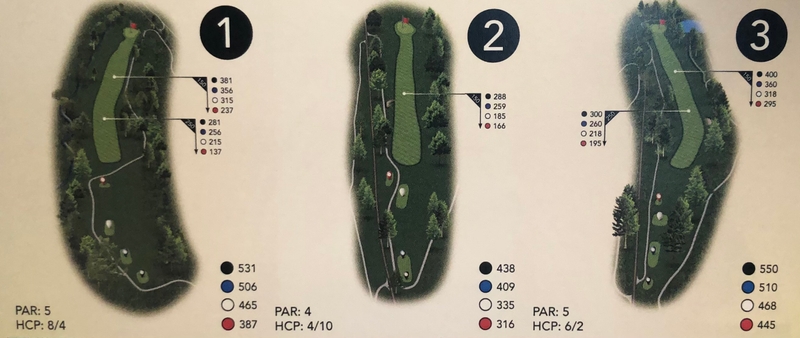 Downhill tee shot with a slight dogleg right leads an uphill layup. The approach into the green is uphill and slightly blind depending on yardage. A good apporoach will lead to a makeable birdie putt.
Straight away par 4. A good tee shot will lead to a mid-iron approach into a narrow but deep green. Out of bounds left and trees and rough to the right make hitting the fairway a must on this hole
A straight tee shot will lead to a downhill second shot. If you are able to go for this green in two, the green is protected by a grass bunker short right, out of bounds left and a pond right of the green.
Our shortest par 3 plays downhill to a large green protected by out of bounds long and left. If you hit the correct club into the green, you will be rewarded with a relatively straight putt
Downhill tee shot with a slight dogleg left leads an uphill approach. Avoid the pond to the right and out of bounds to the left. Control your distance into the green or watch your ball come back down the fairway due to a green that slopes from back to front
A medium length par 3 with a large green. If you miss left, you may find yourself in a deep grass bunker or even worse, a pond that is left of the green
Straight, uphill par 4 with a narrow fairway that must be hit with true accuracy. The second shot plays uphill to a green protected by a bunker short and left. Miss to the right and your ball will move further from the green
Our signature hole. This difficult par 3 has water short and left. A bunker protects those that bail out long and right. Miss the green short and you will still have a chance at par.
A short par 4 gives you several options off the tee. Hit your tee shot between the two fairway bunkers and have a pitch into a sloped green with a bunker right and water left.
Slight dogleg left par 4 with a fairway bunker that you must avoid. Shots from the fairway must hit this long but narrow green with extreme slope in the front and a fall-off on the back. Par here and you have beat the field
A three shot par 5 for most players. Find the fairway and avoid the grass bunker to the right to allow for an easier layup. Hit your 2nd shot to the top of the hill for an easier approach into this very flat green protected by a bunker left
A very unique straight dogleg left par 5 with a blind tee shot and a very challenging 2nd into a slopped green that will challenge even the best golfers with a deft shortgame touch
A difficult dogleg right par 4 with trees guarding the right side of the hole. A slightly blind 2nd will find a green that has slopes that will challenge your putting abilities
Straight downhill par 4 with trees protecting the right and left sides of the hole. Position your approach below the hole to give yourself the best chance at birdie.
Short dogleg right par 4. Find your favorite distance into this two-tiered green or you will be faced with a very difficult two putt. Birdie is available if you find the right distance on your second. A stone wall serves as protection from hitting over the back of the green.
Find this angled fairway and give yourself a short iron into this par 4 with a fairly flat putting surface. Birdies are possible, but par is a good score.
A par 3 finishing hole is our way of welcoming you back to the clubhouse. When the veranda is full, the pressure will mount to try and hit this very generous green. Water does protect short and left. Make a birdie and listen for the applause.
A blind tee shot will challenge golfers to find the fairway. Any tee shot that travels right will have trouble hitting the approach shot into this sloped green protected by a bunker short and left of the green. Walk away with par and you have beat the field on this very difficult par 4.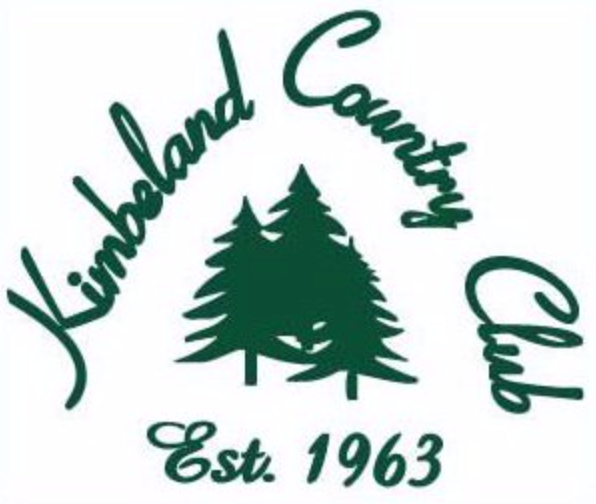 Kimbeland
Country Club
is a semi-private country club nestled in the heart of Jackson, Missouri. A family oriented club, we strive to make your experience one to remember.